Brother's Keeper
Official Homepage
Brother's Keeper is a Windows genealogy shareware program that will help you input and organize your family history information and let you print a large variety of charts and reports. BK6 works with Windows 95, 98, ME, NT, 2000, XP, Vista, Windows 7 and 8. There is no charge to download BK to try it out.
---
Click here to read about or DOWNLOAD version 6.6 or the update
Click here to see the RECENT CHANGES to 6.6
F.A.Q. Click here if you have problems running BK 6
Click here to ORDER the registered version or the update from our SECURE ONLINE STORE.
Descendant Box Chart (click chart to enlarge)
---
Click here for help in Norwegian.
Click here for help in Danish.
---
Click here for information about the older version 5.2
---
Yes, Brother's Keeper 6.6 will also run with Windows Vista and Windows 7 and 8. (click here for details)
There is NOT a Macintosh version of Brother's Keeper. However, if you have a new Mac that is set up to run Windows programs, then it should run in Windows mode.
You may order the registered program with the manual for $45 (or less for current registered users) from:
  Brother's Keeper
  6907 Childsdale Ave
  Rockford, MI 49341
  U.S.A.

  www.bkwin.com
  www.bkwin.net
  www.bkwin.org

Click here to order BK from our secure online store.
---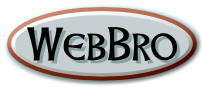 For genealogy web site hosting and web site design, contact the Web Bro Hosting & Design company
---
This Web Site and all contents are Copyright © 2012 by John Steed
All Rights Reserved. Any reproduction or reuse of these pages or
their contents requires the advance permission of John Steed.